is to use up those bits of scrap and old stash - at least
five bits of Designer Paper
- and in my case to clear the decks for the Christmas card rush! I also chose to make my first Christmas card for 2013 - I think I have been very restrained so far, but I have dived in and from now on, there will be lots of Christmas cards to admire and to wonder to yourself - will I get that one? Who will know!
Our Sponsors for this challenge are:
7 Digis of winner's choice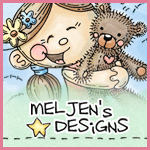 4 digis of Winner's choice.
Meljen also allowed me to use a digi of my choice, so I chose a merry little bird singing his heart out! He is so sweet and is called
little bird song
.
Yes, he is coloured with Copics and some Stickles and white pen have been added added. I chose to make him a robin. They are such "in your face" little birds, full of vinegar and spit. They always make me smile the way they parade around, while the little dun coloured hen goes about her business without all the fuss.
Another shot of him singing his heart out about Spring (remember, Christmas is in our Summer)! I masked him before colouring and used my Copic spry system to spray the blue sky background in, and then applied blender pen to the water droplets to lighten them up before adding Stickles to them.
This snowflake was created using three different die-cuts added together using three different pieces of scrap card. I really like the middle one which is a Memory Box die cut, and the other two are SU.
The background mount and background DP are left over from last years Christmas efforts, and the red background mount is a piece of 6 x 6 from a Christmas pad I have (one of the many, but it was loose so don't really know which one it belongs to); The blue card is from a 12 x 12 sheet of DP and it is mounted on a piece of red DP from a Bo Bunny pack of 6 x 6. That's five pieces of DP Hilde, PLUS the Merry and the snowflake - I win! The whole is mounted onto a white commercial blank card.
The Merry is a die-cut from SU's new Seasonal Catty (yes, I have them here if you want one). It is cut from a piece of scrap red sparkle paper (12 x 12 sheet from SU).The bird and the mount are also cut using SU dies. The thinlit die with the Merry came out really easy and didn't tear - not sure if it was because that glitter paper is a bit stronger than ordinary DP or not but I was very pleased. I also forgot to back it with some sticky paper before die-cutting, so had to use glue to place it but even that didn't phase the die-cut and it behaved beautifully.
Two more shots with the sun on the image - the Stickles on the snow/water droplets, the leaves and a bit on the twig and the sparkle on the snowflake and the sentiment, as well as the silver stripes on the background papers makes the whole thing really shimmery and pretty. Not too sure if you can see the impact here though.
I will enter this in the following challenges: