One thing people always think of when they think of Australia is BEACHES!
Sun and sand and Lifesavers and such....
Indeed, I think the most famous beach in Australia is Bondi Beach, Sydney (above)
But perhaps one of the most beautiful and lesser known ones is called
WINE GLASS BAY (Tasmania)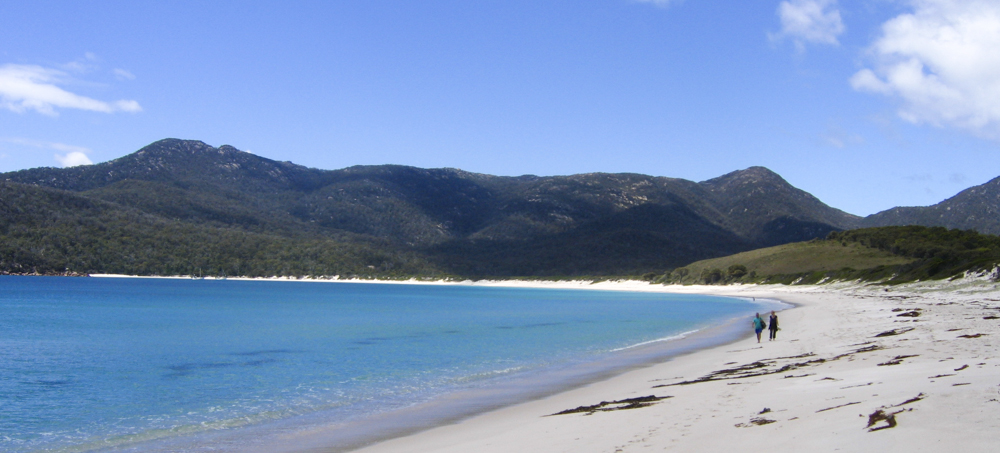 Can you see that small boat? On the RHS? I have been in that spot or near that spot in a yacht on a number of occasions, and swam in those beautiful waters. I have also once (in my youth) been on top of that line of hills above the beach on the southern side, and later been back there and walked that beach with a pack and a group of school kids for the start of a week's camping in the National Park.
A bit less crowded than Bondi.
Over at
Unstampabelles
we have asked you to make a project that reflects something of your country
February Challenge #44 National Symbols
The
twist
is to use your country's flag colours in your creation
Just don't use stamps!
The Prize is this collection of new material (value approx $20 Aus)
Well, my card is about the beach
In Tasmania, the water remains cold right up to December, and it takes a brave person to swim regularly before then without protection ie wet suit. In summer, the briskness of the water is a great counterpoint to the hot days. Beware sunburn though - we have an hole in the ozone layer over us thanks to the rest of the world, and we burn too readily as a result!
We have to take slip, slop and slap very seriously - slip on a shirt, slop on some sunscreen, and slap on a hat!
Graphic 45: By the Sea Collection is the go here - and some SU card - Night of Navy - plus three white starfish shapes of bling!
Only a week to go to enter this - actually, it closes on the 27th AEST so less than that
You need to get your entry in asap
There are some great ones there already!